DAEE's Annual Conference is a chance to connect and learn.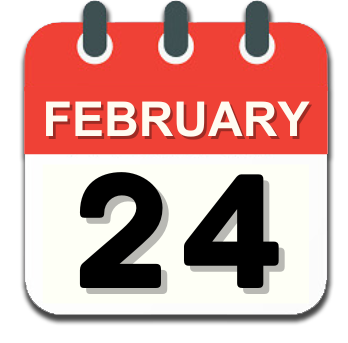 FIFER MIDDLE SCHOOL
109 Camden-Wyoming Avenue, Camden
The theme is "Nature Access for All!"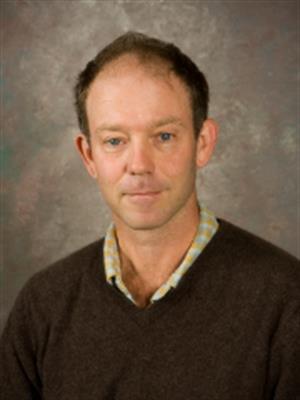 McKay Jenkins is the scheduled keynote speaker for the conference. McKay Jenkins is a journalist, nonfiction writer, and scholar of American studies, specializing in environmental studies and the history, journalism, and literature of race relations and social justice. The Cornelius Tilghman Professor of English, Journalism, and Environmental Humanities, he has been writing about people and the natural world for 35 years. His newest project, a collaboration with colleagues at UD and the Delaware Nature Society, is the creation of the statewide Delaware Master Naturalist Certification Program, designed to train hundreds of environmental restoration volunteers around the state.
Jenkins is the author of the book Food Fight: GMOs and the Future of the American Diet (Avery, January, 2017), which examines the contentious national debate over the safety, politics, and environmental implications of genetic engineering and industrial food. Jenkins is also the author of ContamiNation (Avery, 2016) – previously published as What's Gotten Into Us: Staying Healthy in a Toxic World (Random House, 2011), which chronicles his investigation into the myriad synthetic chemicals we encounter in our daily lives, and the growing body of evidence about the harm these chemicals do to our bodies and the environment. Jenkins holds degrees from Amherst College, Columbia's Graduate School of Journalism, and Princeton, where he received a PhD in English. He is a recipient of the University Excellence in Teaching Award and both the Excellence in Teaching Award and the Outstanding Scholarship Award from the College of Arts and Sciences.
Read a profile of his work in Baltimore at the University of Delaware's UDaily.
Conference and DAEE sponsorship
A great way to support DAEE, support our Annual Conference, support environmental literacy, support continuing education for our teaching professionals, AND support getting communities outside is to become a DAEE sponsor.
At our Annual Conference, if a sponsor is interested, they can have free exhibit space, free tickets as outlined below, advertisements or logos on the event brochure and DAEE website.  All sponsors are listed in our conference brochure and on our website.
We have four sponsorship categories:
Acorn Advocate $250
2 free Conference tickets
Sprout Supporter $500
4 free Conference tickets
Friend of the Forest $1,000
6 free Conference tickets
Canopy Champion $2,000
8 free Conference tickets
Use this link to directly sponsor or scan the below QR code. 

To learn more about sponsorship opportunities, please contact: 
Kara Okonewski at daeeonline@gmail.com
Check out our sponsors below! THANK YOU to these GREAT organizations for helping DAEE achieve our mission!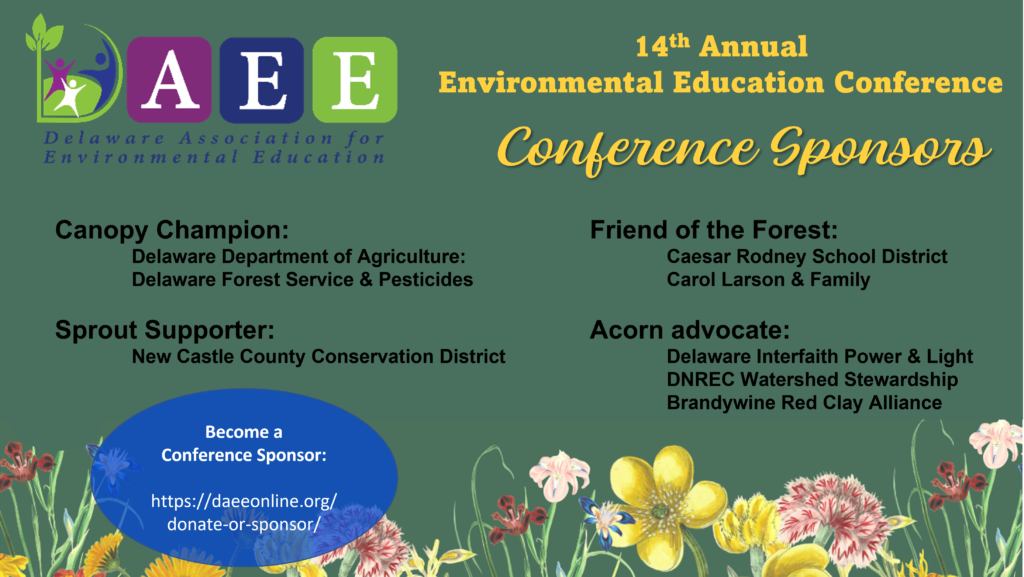 One of our biggest benefits to our membership and contribution to environmental education in the state is our annual conference. Held every winter or early spring since 2010, this professional development opportunity for classroom and non-formal educators provides participants with current research, pedagogy, environmental education resources, and networking.
The DAEE conference is a yearly opportunity for formal and non-formal educators, community and scout leaders and anyone else sharing the desire to help all communities in Delaware connect to nature. It is a day of networking, professional development, sharing, and hands-on experiences. Throughout the day we explore environmental education opportunities, resources, best practices, and local issues to help foster environmental stewardship.
The conference typically includes a keynote presentation, concurrent sessions, an auction which funds our mini-grant program, and exhibits. We also hold our annual business meeting at the conference for all members that are interested. 
We try to move the conference between Delaware's three counties from year to year, in order to maximize reach.
Virtual Conference REGISTRATION

– opening March 23rd 2021 
Regular pricing - With membership (or walk-in rates)
Includes your 2020 DAEE Membership.
Regular pricing - Without membership
Does not include DAEE Membership.
Membership WITHOUT attending conference
Can't make the conference? No problem, we still very much want you as a member!