DAEE's Annual Conference is a chance to connect and learn.
Our 13th Annual Conference was May 11th and 12th, 2022 ! We hope
YOU
joined us for this virtual event!
eventbrite link for membership and events
Although our 2022 conference is over, this link for tickets can still be used to get a new membership or renew your membership. As a member you will also be able to go to other DAEE events this spring listed at the link.
The theme of this year's conference was The Power of Connection, Working Together for a Collective Impact and we feel this year's unique format set the stage for an exciting time in DAEE's history.
DAEE devoted the conference to advancing our three main priority areas: Environmental Justice, Equity, Inclusion & Accessibility (JEDI), The Outdoor Learning Network (OLN), and Communities in Nature (CIN).
Throughout the two nights of the conference, members helped shape how DAEE's priorities will be addressed.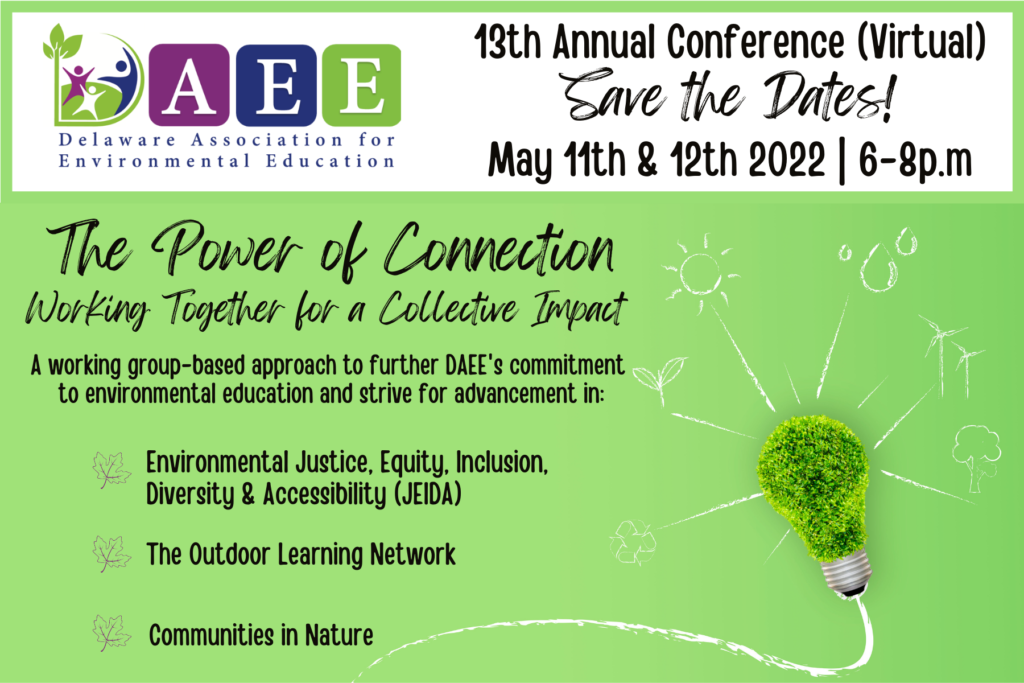 One of our biggest benefits to our membership and contribution to environmental education in the state is our annual conference. Held every winter or early spring since 2010, this professional development opportunity for classroom and non-formal educators provides participants with current research, pedagogy, environmental education resources, and networking.
The DAEE conference is a yearly opportunity for formal and non-formal educators, community and scout leaders and anyone else sharing the desire to help all communities in Delaware connect to nature. It is a day of networking, professional development, sharing, and hands-on experiences. Throughout the day we explore environmental education opportunities, resources, best practices, and local issues to help foster environmental stewardship.
The conference typically includes a keynote presentation, concurrent sessions, an auction which funds our mini-grant program, and exhibits. We also hold our annual business meeting at the conference for all members that are interested. 
We try to move the conference between Delaware's three counties from year to year, in order to maximize reach.
Virtual Conference REGISTRATION

– opening March 23rd 2021 
Regular pricing - With membership (or walk-in rates)
Includes your 2020 DAEE Membership.
Regular pricing - Without membership
Does not include DAEE Membership.
Membership WITHOUT attending conference
Can't make the conference? No problem, we still very much want you as a member!