DAEE's Annual Conference is a chance to connect and learn.
The location was Brandywine Springs Elementary School and the theme was Nature's Best Hope: Our Role as Educators
The Conference Strands were:Connecting People with NatureEngaging Professionals in Environmental Education Cultivating Environmental Leaders Innovative and Inclusive EE
Doug Tallamy was the keynote speaker for the conference. He is an award-winning professor in the Department of Entomology and Wildlife Ecology at the University of Delaware. He is also a New York Times best-selling author.
Join Doug's Call to Action at homegrownnationalpark.org.
Conference and DAEE sponsorship
A great way to support DAEE, support our Annual Conference, support environmental literacy, support continuing education for our teaching professionals, AND support getting communities outside is to become a DAEE sponsor.
At our Annual Conference, if a sponsor is interested, they can have free exhibit space, free tickets as outlined below, advertisements or logos on the event brochure and DAEE website.  All sponsors are listed in our conference brochure and on our website.
We have four sponsorship categories:
Acorn Advocate $250
2 free Conference tickets
Sprout Supporter $500
4 free Conference tickets
Friend of the Forest $1,000
6 free Conference tickets
Canopy Champion $2,000
8 free Conference tickets
Use this link to directly sponsor or scan the below QR code. 

To learn more about sponsorship opportunities, please contact: 
Kara Okonewski at daeeonline@gmail.com
Check out our sponsors below! THANK YOU to these GREAT organizations for helping DAEE achieve our mission!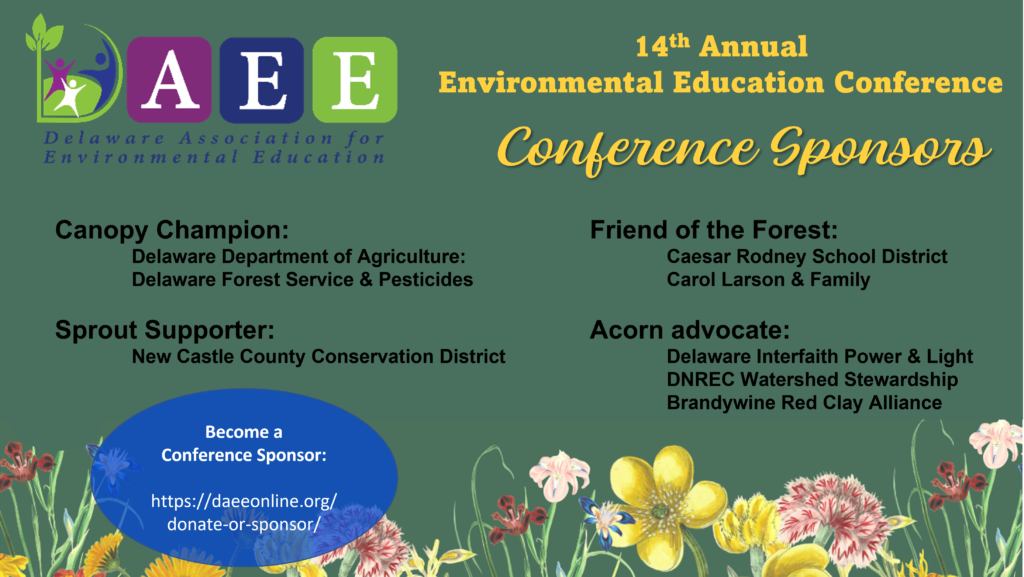 One of our biggest benefits to our membership and contribution to environmental education in the state is our annual conference. Held every winter or early spring since 2010, this professional development opportunity for classroom and non-formal educators provides participants with current research, pedagogy, environmental education resources, and networking.
The DAEE conference is a yearly opportunity for formal and non-formal educators, community and scout leaders and anyone else sharing the desire to help all communities in Delaware connect to nature. It is a day of networking, professional development, sharing, and hands-on experiences. Throughout the day we explore environmental education opportunities, resources, best practices, and local issues to help foster environmental stewardship.
The conference typically includes a keynote presentation, concurrent sessions, an auction which funds our mini-grant program, and exhibits. We also hold our annual business meeting at the conference for all members that are interested. 
We try to move the conference between Delaware's three counties from year to year, in order to maximize reach.
Virtual Conference REGISTRATION

– opening March 23rd 2021 
Regular pricing - With membership (or walk-in rates)
Includes your 2020 DAEE Membership.
Regular pricing - Without membership
Does not include DAEE Membership.
Membership WITHOUT attending conference
Can't make the conference? No problem, we still very much want you as a member!